What I learned from a Christmas tree
The Christmas season is upon us and I would like to share some stories about a blending of traditions in our home.
Thirty-one and a half years ago, Sam and I said, "I do." Leading up to that day, we had spent hours together, getting to know each other and our families as best as we could from our Bible school campus in northern Saskatchewan. We shared our faith journeys with each other and the beautiful ways that God redeemed our past, and we were excited for how he would direct our future. We even had interesting conversations trying to figure out what the difference might be between a Mennonite and a Baptist. We seemed to land on the same page until that shocking Sunday morning when we were sitting in a baptismal service. The pastor leading the service had just made a very bold statement about baptism and we were quickly made aware of one of our differences – where we landed on that one is a story for a different day.
We talked about where we would live (I was from Ontario and Sam was from Manitoba), where we would serve (we both felt God called us as a couple into pastoral ministry), and the desire to have children if God would choose to bless us in that way. Our families of origin were quite different and we knew that marriage would take time to adjust to. But there was one necessary adjustment that was way off my radar. We were married in June, and just six months later, the clash of traditions took place.
It was all about a Christmas tree.
Blending traditions
I was raised in a home where we had lots of decorations and a Christmas tree. There was no shortage of lights, tinsel, and red and green everywhere. For the first 14 years of my life, Christmas was all about presents and leaving out milk and cookies for Santa. Once Jesus entered our family, we continued to celebrate with decorations and a tree, and the fantasy of Santa was replaced with the truth of Jesus.
Sam was raised in a Christian home that had no Christmas decorations. Their celebrations were family-focused. Presents were exchanged but only after the reading of the first Christmas account in Luke 2. There was no shortage of Christmas baking and family gatherings. One side of his family had to rent the town recreation centre with the outdoor ice rink to be able to have a gathering space large enough for them all to attend.
So here we were: two young newlyweds with very different expectations about how to prepare and celebrate for Christmas. I believed that we needed a tree to have Christmas and Sam believed that since he had 23 Christmases without one, a tree wasn't necessary.
Let's just say that it was a wonderful time for us to begin our own family traditions.
It caused us to become flexible and creative at times. We realized that neither one of the traditions that we grew up with were exclusively right or wrong – it was just what we were familiar with. So, we decided to alternate from year to year and try to be open to learning new ways of celebrating. Some years we would have a tree, the next year we chose not to. As our children came along, we continued with this until it eventually landed with our having a tree every year.
We have certainly had some interesting experiences with a tree. Some years we went as a family to a local tree farm where we got to pick out, cut down and haul home our own tree. This provided some fun family time where Sam's mom was able to join us. The afternoon was filled with sleigh rides, hot chocolate and usually some funny pictures.
Other times, trees can have a mind of their own. You may want to ask Sam about a very pointed conversation that he had with one of our Christmas trees that we brought home. Yes, it was a conversation. But that's his story to tell!
There is one Christmas, however, that stands out for me. I would go so far as to say that it was very pivotal in helping me to remember why we celebrate Christmas at all. It was the most profound message that I have received from a Christmas tree.
A profound reminder
This particular year, money was extremely tight and we couldn't justify buying a tree. We had explained that to our kids and although they were disappointed, they tried to understand. We continued with putting out our other decorations and before we knew it, the fact that there wasn't a tree didn't bother us that much. Some of the kids even went so far as to draw a picture of a decorated tree and stuck it on the wall. The presents were wrapped and placed under it.
On Christmas Eve, we all attended our church for the Sunday School Christmas program. I don't remember all the details of the story that year, but I remember it involving a man from our church dressed up as a lumberjack. He was off in the corner doing his best to trim a very sorry looking Christmas tree while the students continued to portray the real meaning of Christmas. By the time the play was done, the lumberjack presented the tree to the audience. He had trimmed it in such a way that it was the shape of a cross. Seeing the Christmas tree that way brought tears to my eyes. It spoke so clearly of the reason for Christ's birth.
Once the program was over and most of the congregation had left, we were talking with the few people that remained behind. The question came up of what we should do with the tree and I knew at that moment that we needed to take it home with us.
We brought the tree into our living room. At first our kids were not so sure about this tree. We began to place a few lights and decorations on it. Once we were done, we sat around and admired it. It was then that some of our older kids caught on. This is what Christmas is about. It's not only about Jesus as a baby; it's about why he came. That Christmas morning, as we sat around the tree to read the Christmas story it brought deeper meaning to all of us.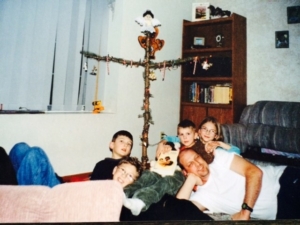 This picture was taken a few years ago during a precious season with our kids. They were so young, innocent and impressionable. It was the best object lesson to have implanted into their mind and heart.
There was no way that we could look at this tree without being reminded of why Jesus came. Who would have thought that the clash of our Christmas traditions would have melted together to proclaim the same message after all.
Isaiah 9:6 says, "For unto us a Child is born, unto us a Son is given and the government shall be upon his shoulders. And his name shall be called Wonderful, Counsellor, might God, Everlasting Father the Prince of Peace."
And in John 19:28-30 we read, "Jesus knew that his mission was now finished, and to fulfill Scripture he said, 'I am thirsty.' A jar of sour wine was sitting there, so they soaked a sponge in it, put it on a hyssop branch, and held it up to his lips. When Jesus had tasted it, he said, 'It is finished!' Then he bowed his head and gave up his spirit."
This has been a very different and trying season for all of us. This Christmas may your eyes be attuned to spotting what has never changed. May you and your family be at peace as you celebrate Jesus' first arrival and may you look forward in hope of his next return.
From our home to yours, may you have a wonderful Merry Christmas.
Pauline Doerksen and her husband, Sam, are the program directors at our Manitoba Kerith Retreats location. For more information about our retreats, visit KerithRetreats.ca.
© 2021 Focus on the Family (Canada) Association. All rights reserved.
http://clergycare.ca/app/uploads/2023/03/FOCUS-40-banner_ClergyCare.png
0
0
Pauline Doerksen
http://clergycare.ca/app/uploads/2023/03/FOCUS-40-banner_ClergyCare.png
Pauline Doerksen
2021-12-01 18:36:16
2021-12-01 18:36:16
What I learned from a Christmas tree